Three important things to consumers in 2023 are privacy, brand storytelling, and representation. 77% of customers want to feel included in brand messaging and values, and the only way to get them invested is through brand storytelling. 
Brand storytelling evokes a brand's emotions and facts through narrative, which is 22 times more memorable than facts. 
Brand storytelling, also known as brand selling, is a powerful tool for businesses to attract and retain customers. Companies that craft a compelling narrative around their products or services would create an emotional connection with their audience and differentiate themselves from the competition. 
By developing and sharing your brand history, shortfalls, roadblocks, successes, and value propositions with your target audience, you are luring them to participate in your business's progress. A more profound engagement with them will further cement the relationship.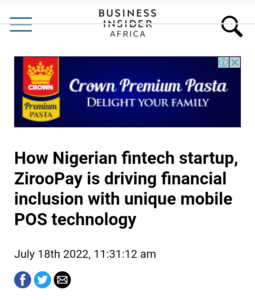 There are different ways to tell brand stories, including history, user-generated content, community stories, industry stories, and product or service stories.
Brands that leverage user-generated content for their brand storytelling will weave authentic stories around customer testimonials and responses to brands' social course. These stories would build trust and credibility with potential customers as they provide a firsthand account of the value that a company's products or services can provide.
Another powerful tool for brand storytelling is product and service. Companies can engage with their audience and build a loyal following by creating and sharing content highlighting a business's unique aspects and products or services. An example is a newsletter ZIROOPAY sent to its customers in 2022 titled "The ZIROOPAY Story." ZirooPay, as a product brand of IroFit Technology, won Series A Funding, and the story covers how the product was developed to the point of winning the funding to upscale.

Stories about brand products and services can be achieved through videos, images, infographics, and other visual content shared across multiple platforms, such as social media, brand books, and company profiles.
In addition to these strategies, businesses can leverage brand storytelling through events and experiential marketing around community-based services or a social course. This can be around sustainability, inclusion, inclusion, and diversity in the workplace. Examples of brands leveraging this and their campaigns are ZirooPay Permanent Voter's card Sensitization Campaign, Access Bank Lagos City Marathon and Walk for Women Health, Fidelity Bank's Tree Planting Day, and the Advertising industry's Mental Health Campaign Day. These are brands looking to connect with the real world through social issues. This sustainability and women-centric approach connect with modern consumers better, as it affects them more.
By creating memorable experiences that align with a company's brand and values, businesses can make a deeper emotional connection with their customers and build lasting relationships.
Ultimately, the key to successful brand storytelling is authenticity. Companies should strive to communicate their brand values and messages in an authentic and relatable way. By doing so, they can build trust and credibility with their customers and create a loyal following that will help to drive long-term growth and success.
In conclusion, leveraging brand storytelling is a powerful way to attract customers. By creating an emotional connection through customer testimonials, community-based stories, social media, events, and experiential marketing, businesses would build trust, remain unique from the competition, and build a loyal following. The key is authenticity and genuineness to the company's brand and values.