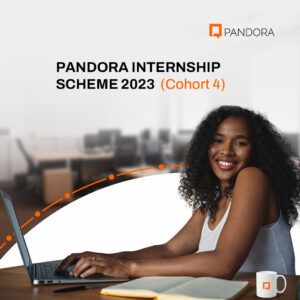 PANDORA BEGINS HER 2023 INTERNSHIP SCHEME (COHORT 4) 
Application for the PANDORA Internship Scheme (Cohort 4) officially began on Friday, 13th January 2023.
Adeyinka Adeyemo, the content writer lead at PANDORA Agency, announced on Thursday during a ZOOM webinar organised to familiarise interested participants with the scope of the PANDORA Internship Scheme (Cohort 4), the requirements for selections and the goals.
She said this Cohort 4 targets students between the ages of 17 and 23, and the registration and selection process is expected to take one-month maximum.
The PANDORA INTERNSHIP scheme is a full-on experience created to groom young marketing and communications aspirants in their particular niche within the Marketing field as a form of corporate social responsibility of the brand. This marketing field includes motion and graphic design, content writing, strategy and operations. 
"Originally, every cohort of the internship scheme spanned a year; but the agency has now broken the duration into quarters." She explained that this was to ensure an all-inclusive program. 
The agency would give a preferential advantage in Cohorts 5, 6 and 7 to candidates who apply for this Cohort 4 and are not selected. This would ensure that no qualitative candidates are left behind in acquiring marketing skills and agency experience to launch a career in marketing and communications.
Feeding on questions from the participants at the webinar on the nature of the internship, Adeyinka answered that the agency has considered the secure work environment and the standard globally. Hence, the internship would be hybrid [onsite and remote]. However, the scope of work for each candidate selected would be based on their attached unit.
While explaining the payment plan for the internship and the essentials of a functional laptop and internet connection, she emphasises that the PANDORA Internship Scheme is a full-on hands-on approach, and all candidates will be challenged and assigned real-life briefs from real-life companies. This experience would ensure all candidates are well-grounded in both practice and theories.